ORP Cleaning Polishing Strip
00028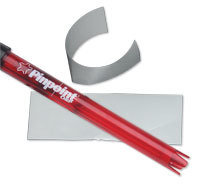 **An absolute necessity if you own an ORP meter
ORP Meter readings on your Kangen Demo rising and dropping very slowly?
Then you need to clean it with this ORP Cleaning strip. Rub the abrasive side on all sides of your probe, and the meter will give a fast & acucurate reading every time
Your ORP pinpoint is very sensitive and picks up minerals every time you conduct a demo.